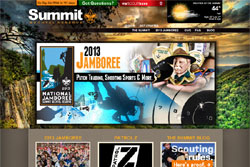 The 2013 Boy Scout National Jamboree will be held in July at the Summit Bechtel Family Scout Reserve. In the future, this will be the permanent home for all jamborees in the U.S.
The Summit Is More Than A Place
Situated in the wilds of West Virginia, The Summit is an adventure center for the millions of youth and adults involved in the Boy Scouts of America… and anyone who loves the outdoors! This is the new home to the National Scout Jamboree as well as the 4th BSA High Adventure Base (the other three being: Philmont Scout Ranch, Northern Tier and Florida Sea Base).
This is the beginning of the next century of Scouting. With incredible facilities and intense outdoor programs, The Summit is a place that takes kids to the limits of what they think they can do, and then takes them even further. The Summit is more than just a place for Scouts – it's Scouting's next step.
2013 National Jamboree Visitor Dates –
Wednesday, July 17th thru Tuesday, July 23rd